JMolar 1.0
JMolar is a freely downloadable scientific calculator for molecular weight and volume calculations.
---
---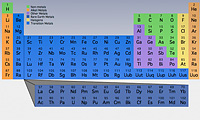 JMolar Does The Math
Calculate molecular mass from names and formulas.
Calculate amount needed for a molarity and volume.
You do the math - basic calculator included.
Periodic Table
Full Periodic Table of Elements.
Dynamic Readout shows Names, Symbols, Molecular Mass, and Element Number.
---
JMolar is Freeware Licenced. Download and distribution in its original form is free of charge subject to the END USER LICENSE AGREEMENT that comes with the download.